Wow! I've really been bad about keeping this blog updated; that's something I'll need to work on if I follow through with getting my own dedicated website (not unlike what my good friend Chrystal Wynd has.
So let's start with my latest ebook titles. Since the last time I updated this blog, I've published two new ebooks:
Mongol Whored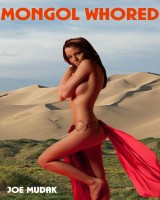 Nadezhda Timofeyevna has been selected to lead an expedition to the Gobi Desert in hopes of finding the final resting place of Genghis Khan. The local villagers believe that the exact location is haunted and warn her and her crew against getting too close. When the rest of the expedition mysteriously disappears, Nadezhda begins to wonder whether or not the villagers' warnings might have had some merit. What, exactly, happened to them? And why is she having such strange, vividly erotic dreams? And what, exactly, was Genghis Khan's plan for world conquest?
Find out more in this tale that mixes mythology and history into a sexy thriller that'll leave you wondering what, if anything other than your own pleasure, is real.
Quickies, Vol. 3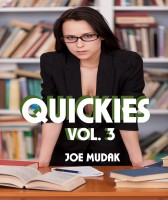 Four short and sexy tales designed to capture your imagination and arouse your senses. In order, they are:
— The Young Lady Who's Down on Her Luck: A very adult nursery rhyme with very adult sensibilities
— Scared Out of Her Pants: Frank takes his friends Kelli and Sandy on a tour of his haunted house. How will Kelli and Sandy feel by the time they get out, if they get out?
— Rising to Management: His recent promotion gives one employee the chance to clean out his old desk. When he comes across one old invention of his, he decides to test it to see if it still works; his secretary Laurie is as good a test subject as any.
— Tinker, Trainer, Philosopher, Spy: Lucy takes on an undercover assignment to try and infiltrate one of her employer's competitors. Has she bitten off more than she can chew with this one assignment?

… and speaking of Quickies, two of the short stories from Quickies Volume 1 have been dramatized in a new podcast. Both Oh, the Places You'll Cum and My Candelabra have been dramatized into virgin episode of the new kinky podcast, Kinkreation. If you haven't subscribed to it, I recommend that you do so.
So what's coming next? It's a fair question, to be sure.
Well, the next story is a tale of espionage and intrigue. The working title of it is Korea Counseling but that undoubtedly won't be the final title.
After that, I am going to take an incomplete story on the EMCSA, specifically, Embarrassing Emily, and finish it, publishing it as an ebook.
Beyond that, I haven't quite decided but I'm thinking of doing another Admiral Anticrime story…
Again, sorry it's been so long since I've updated this blog, but I will try to update it more often. More soon……